Back to news
BTS: Yet To Come in Cinemas continues highest grossing worldwide event cinema reign, crossing $53M at the box office, with 25% attributed to ScreenX, 4DX and 4DXScreen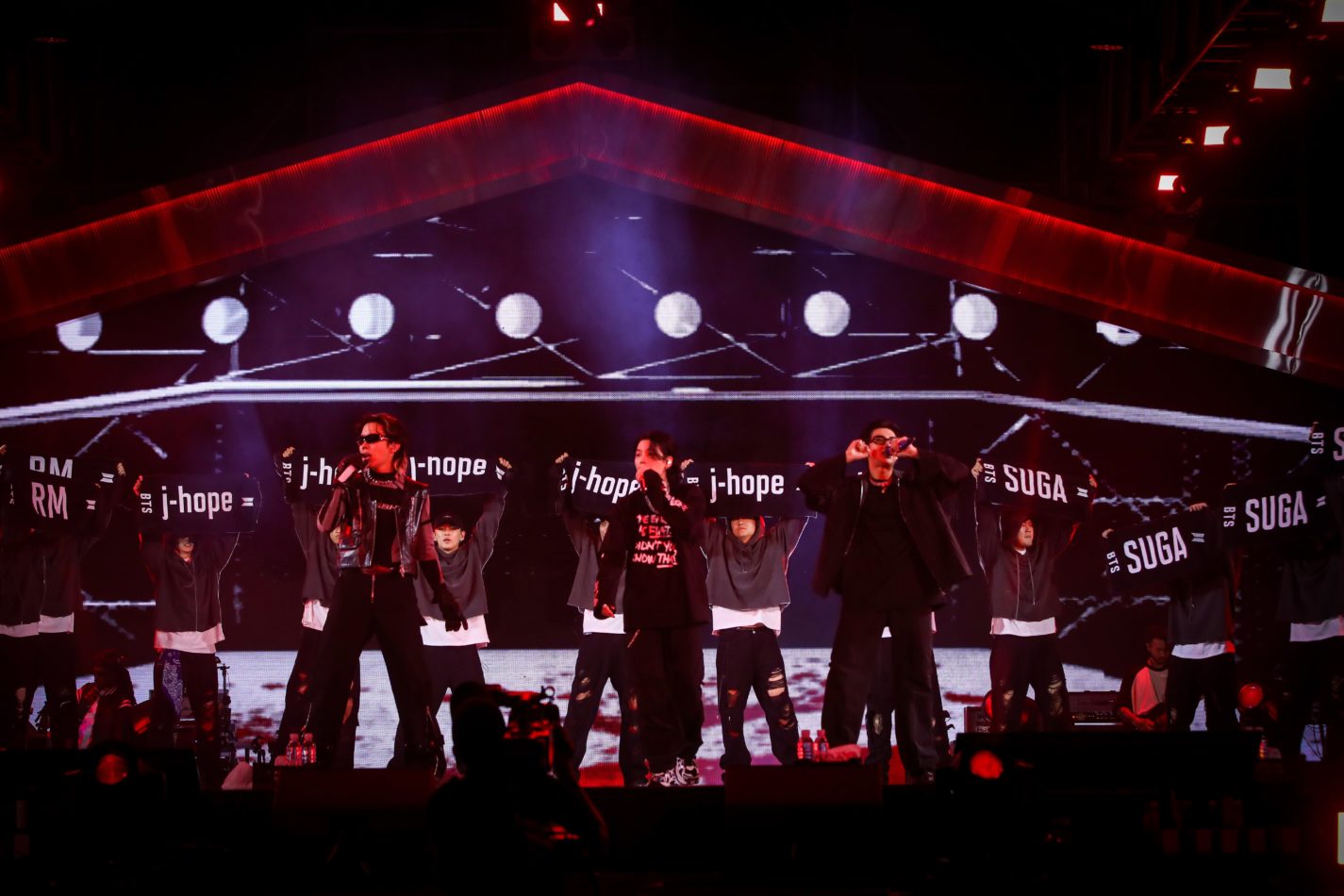 Los Angeles, CA – Mar. 27, 2023 – 21st century pop icons BTS continue their reign at the event cinema box office. Having broken the record for the highest grossing worldwide event cinema release last month with a $40m gross, the group's latest theatrical release BTS: Yet To Come in Cinemas, which began limited screenings on Feb. 1, has now passed a $53m gross globally.
Presented by HYBE, CJ 4DPlex, and Trafalgar Releasing for a limited run, BTS: Yet To Come in Cinemas boasted a footprint of more than 5,817 cinemas across 128 countries/territories, including a total of 629 coming from CJ 4DPlex's 4DX and ScreenX locations. CJ 4DPlex's ScreenX, 4DX & 4DX Screen premium formats accounted for 25% of the overall box office from approx. 10% of the total screens.
Audiences who experienced the film in ScreenX or 4DX raved about the immersive experience, with comments such as "In ScreenX, you can see all of BTS members all around you," "ScreenX is absolutely amazing. It feels like you are really in the concert stadium at Busan, not in the theater," and "When you watch it in 4DX and ScreenX, you can be both part of the audience and BTS because you can see the full vision of being with them with fans who are actually there onsite. Also, the 4DX motion chair dances along the whole shows, and that made me feel like I became the 8th BTS member."
Overall, top performing countries/territories for BTS: Yet To Come in Cinemas including Japan, USA and Mexico. Across the opening weekend the concert film scored multiple top five positions for the weekend in territories including Japan, Korea, Italy, and Spain, plus the top ten in UK, Germany, Peru, and Australia. The project also reached number one in Mexico, Colombia, and the Philippines, plus the number one international release in India.
BTS: Yet To Come in Cinemas in ScreenX delivers a truly immersive experience that puts audiences in the front row. With a 270-degree field of view and exclusive imagery, audiences will feel like they are watching BTS live in concert. In multi-sensory 4DX, audiences are surrounded by unique motion and environmental effects that reproduce the atmosphere of a live concert. Complete with synchronized seats timed to BTS' hit songs, 4DX transcends the BTS: Yet To Come in Cinemas experience.
Jong Ryul Kim, CEO of CJ 4DPLEX said, "We are deeply gratified by the fact that one-fourth of our worldwide box office sales can be attributed to the special formats with ScreenX and 4DX, that we offered for the BTS concerts. This figure is a testament to the strong relationships and collaborative efforts between CJ, HYBE, and Trafalgar. We take great pride in this achievement and extend our sincere gratitude to viewers worldwide for their unwavering support."
Marc Allenby, CEO of Trafalgar Releasing said "We are delighted to see BTS: Yet To Come In Cinemas exceed an incredible $50m milestone at the box office. This figure is testament to the group, the ongoing dedication of the audiences and a credit to the international partnerships that made this landmark cinema event possible."
BTS: Yet To Come in Cinemas features a special cinematic cut of "BTS <Yet To Come> in BUSAN," re-edited and remixed for the big screen, with new close-up angles and a whole new view of the entire concert. Recorded in front of a massive sold-out crowd in Busan, South Korea, in October 2022, cinema audiences watched the group's RM, Jin, SUGA, j-hope, Jimin, V, and Jung Kook perform career-spanning hits. In addition to the standard screenings beginning on Feb. 1, showings on Feb. 4 were dedicated to "Light Stick Screenings," where audiences celebrated using the band's signature light sticks.
The event was HYBE and Trafalgar Releasing's fifth global title with the pop icons, including 2018's BURN THE STAGE: THE MOVIE, 2019's BRING THE SOUL: THE MOVIE, 2020's BREAK THE SILENCE: THE MOVIE, and 2022's "BTS PERMISSION TO DANCE ON STAGE – SEOUL: LIVE VIEWING.
*BTS: Yet To Come in Cinemas is distributed worldwide by Trafalgar Releasing except in South Korea and Japan where it is exclusively distributed by CJ 4DPLEX.
Back to news