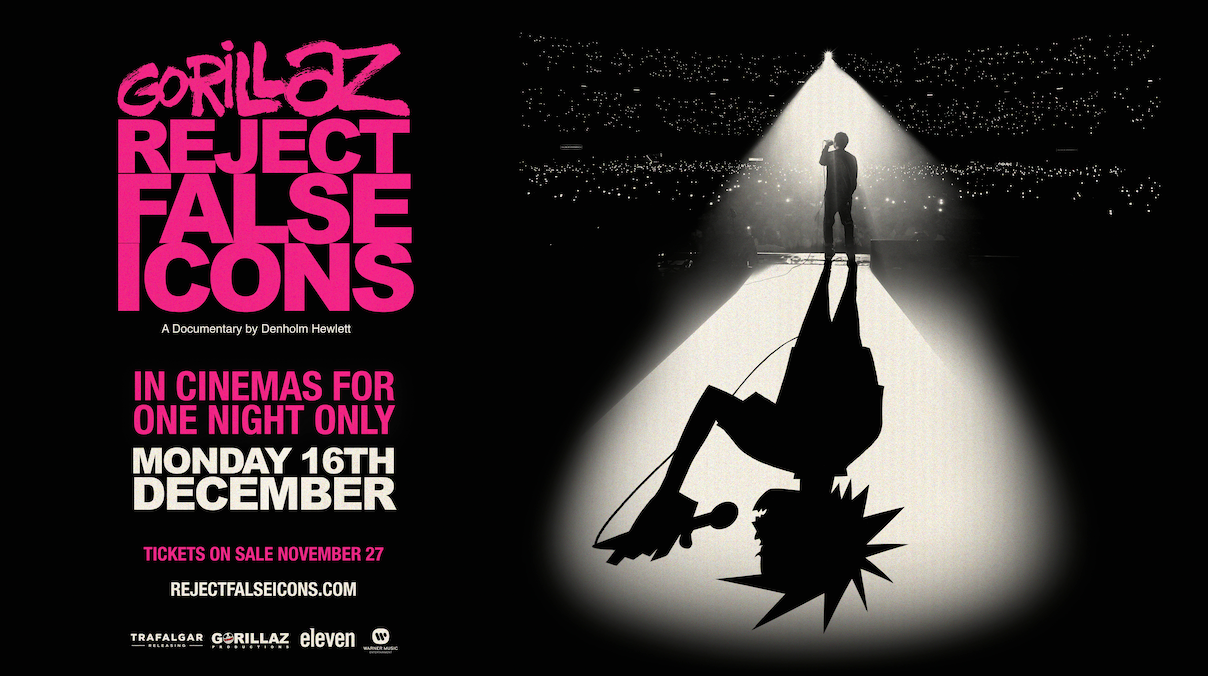 Release date: Dec. 16, 2019
Countries available: International
---
GORILLAZ: REJECT FALSE ICONS is a brand new feature documentary from British band Gorillaz, the planet's Most Successful Virtual Act*.
''Gorillaz: Reject False Icons" documents life in the studio and on the road with Gorillaz co-founders Damon Albarn and Jamie Hewlett; producers The Twilite Tone of D /\ P, Remi Kabaka and James Ford; as well as stellar roll call of featured artists including Vince Staples, Jean-Michel Jarre, De La Soul, DRAM, Pusha T, Peven Everett, Little Simz, Jamie Principle, Yasiin Bey, Bootie Brown, Cheick Tidiane Seck, Graham Coxon, Pauline Black, Zebra Katz, Danny Brown, Ben Mendelson, Kelela, Jehnny Beth, Hypnotic Brass, Junior Dan, Shaun Ryder, Mavis Staples, Sidiki Diabete and Noel Gallagher.
In his debut feature, director Denholm Hewlett followed the band's every move for three years, covering the making of two critically acclaimed albums and a world tour. The result is the first ever all-access immersive journey into the world of Gorillaz and its extended family – featuring never-seen footage, where the virtual meets the real – to capture the wondrous chaos of life under the watchful eye of Murdoc Niccals (bass), Noodle (guitar), Russel Hobbs (drums) and 2D (vocals).
Virtual group Gorillaz is singer 2D, bassist Murdoc Niccals, guitarist Noodle and drummer Russel Hobbs. Created by Damon Albarn and Jamie Hewlett, their acclaimed eponymous debut album was released in 2001. The BRIT and Grammy Award winning band's subsequent albums are Demon Days (2005), Plastic Beach (2010), The Fall (2011), Humanz (2017) and The Now Now (2018). A truly global phenomenon, Gorillaz have topped charts around the world and toured the globe from San Diego to Syria, picking up hundreds of millions of streams and record sales along the way. Gorillaz have achieved success in entirely ground-breaking ways, winning numerous awards including the coveted Jim Henson Creativity Honor.
* The band are recognised by The Guinness Book Of World Records* as the planet's Most Successful Virtual Act.
---
Back to events